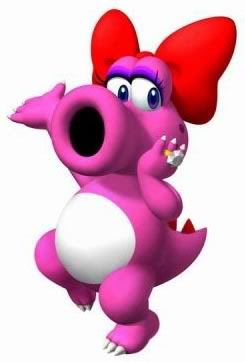 Birdo.
From Super Mario Brothers 2, and many other mario games, is in fact a boy.
i always assumed Birdo was a girl, with the pinkness, the eyelashes, and the huge bow...
i stand corrected now...
it is said on wikipedia that Birdo is in fact a male transvestite.
this is quite possibly the coolest thing i have learned in a long time.
i am beyond stoked about it....
apparently in the original manual for Super Mario Brothers 2...
Birdo is described as a male who believes he is female...
and would like to be called Birdetta....
am i alone in thinking this is beyond cool?
go Birdo!